2017 RiverWalk for Cancer Frequently Asked Questions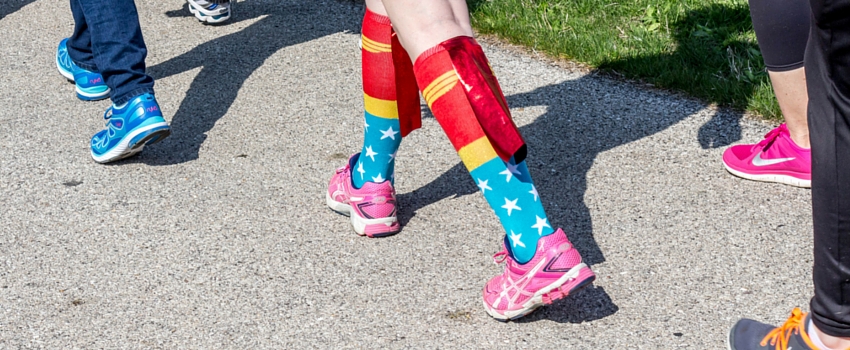 What color are the 2017 t-shirts?
This year's RiverWalk for Cancer t-shirts are charcoal gray.
Do the t-shirts run large or small?
The long-sleeve t-shirts typically run true to size. They are a "man's fit", so please factor that in when considering sizing. The shirts are made out of 100% preshrunk cotton.
Shirts are available in both adult and children's sizes.

When can I pick up my team or individual t-shirts?
T-shirt pick-up is April 20, 2017 from 12 to 6 pm and April 21, 2017 from 10 am to 5 pm at Waukesha Memorial Hospital. Individual walkers and team captains can pick up their shirts at this time. Team captains (or a designee) must pick up for the entire team.
How long is the route?
The RiverWalk route through Frame Park is just about 2 miles (one lap around Frame Park). An optional longer route is available, those interested can cross Barstow Ave and walk through the Farmer's Market and back around to Frame Park.


What are the registration fees and deadlines?
| | |
| --- | --- |
| February 1 - March 15 | $25* |
| March 16 - May 2 | $30* |
| May 3 - May 6 | $35 |
*Save $5 by going paperless and registering online.
Online registration ends May 2.

What kind of parking is available?
Limited street parking is available near Frame Park for early arrivals. Additional parking is available at Trinity Lutheran Church (1052 White Rock Ave, Waukesha) and at the Waukesha County Courthouse. A shuttle is available to drive you to the park from the courthouse.

I saw the sweatshirts are back, how do I get one?
Commemorative sweatshirts are available for purchase through our online store for $20. We will have a limited quantity of sweatshirts available the day of the Walk, but cannot guarantee sizes if you do not order ahead of time.

What are this year's incentive prizes?
Information about this year's incentive prizes and how to order them can be found under the "Donate" tab of our website.


How do I order my incentive prizes?
Incentive prizes will be available to order online. You will receive an email from us following the conclusion of the Walks with detailed instructions on how to place your order. Orders will be mailed to you directly at your home, and should arrive in early July.