2018 LakeWalk for Cancer Frequently Asked Questions

What color are this year's shirts? Are they true to size?
This year's LakeWalk for Cancer t-shirts are purple.
The long-sleeve t-shirts typically run true to size. They are a "man's fit", so please factor that in when considering sizing. The shirts are made out of 100% preshrunk cotton.
Shirts are available in both adult and children's sizes.
How long is the route? Can I start early if I want to?
The LakeWalk route around Fowler Lake is just about 2 miles. There is also an optional route extension should you want to walk longer.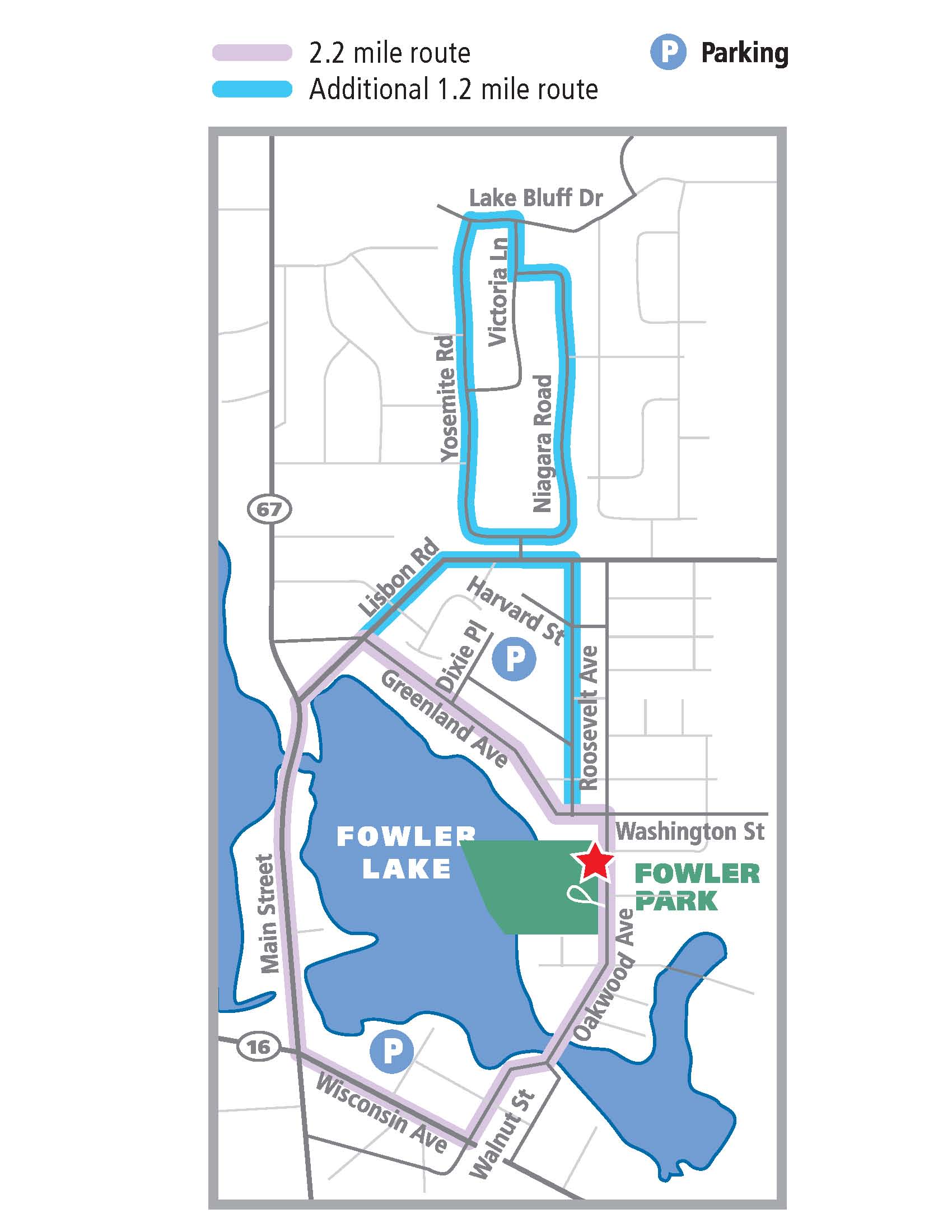 When is the early bird deadline? Is there a cut off for online registration?
| | |
| --- | --- |
| February 1 - March 21 | $25* |
| March 22 - May 1 | $30* |
| May 2 - May 5 | $35 |
*Save $5 by going paperless and registering online.
Online registration ends May 1. If you want to register after May 1, you can do so the morning of the Walk from 8 - 10 a.m. at the park. Day of registration is $35, and we can accept cash, check and credit card payments on site.
What are custom team t-shirts?
Teams have the option of having artwork screenprinted on the back of their team members' t-shirts. The fee for this is $25 per team. The fee and artwork is due by March 14. All team members registered by March 21 will get the artwork on their shirts. Team logos must be submitted as a .jpg or .pdf file and can be emailed directly to us.
What kind of parking is available?
Limited street parking is available near Fowler Park for early arrivals. Additional parking is located at Greenland Elementary (440 Coolidge St) and the Our Savior's Lutheran Church (145 E Lisbon). A shuttle is available to transport you from the both these locations to the park. Parking is also available in Oconomowoc's municipal lots.
I heard the sweatshirts are back, how can I get one?
You can order a sweatshirt through our store, or purchase one at our early t-shirt pick-up event or at the Walk.
What are this year's incentive prizes?
We're still finalizing them! Check back soon to see what they are!
How do I order my incentive prizes?
Information about how to order your 2018 incentive prizes can be found under the "Donate" tab of our website.
All ordering will take place online. You will receive an email from our incentive vendor, Sky High Marketing in mid-May, after the donation deadline, with detailed instructions on how to place your order. Your order will be mailed directly to you at your home, and should arrive by early July.